ZHQJ-1100A3A4 paper cutting machine (4rolls feeding)
Performance and characteristics:
Jumbo roll A4 paper cutting machine is suitable for cutting all kinds of large drum packaging materials such as paper, paper plastic composite and color printing composite. This machine adopts servo motor to control the cutting length. The transmission system adopts the centralized control of pneumatic, photoelectric sensor and so on. This machine integrates light, electricity and gas. It is easy to operate, high cutting precision, stable machine and low noise. (pneumatic feeding can be selected) motor variable frequency speed regulation, automatic counting, alarm parking, magnetic powder or friction piece manual adjustment of tension function.
The above picture is for reference only
Main Parameter:
Model: ZHQJ-1100mm
Raw Material Max Diameter: φ1400mm
Max Paper Width: 1050mm
Cutting Length: A3A4
Longitudinal cutting width:A4 A3(Can be customized according to other customer requirements)
Cutting Speed: 50-200times/min
Fixed length precision: ±0.2mm
Power Supply: 22kw
Machine Weight : About 9000kg
Main Configuration:
1.Unwinding Part:
(1) The frame adopts the steel plate and channel steel
(2) Adopts Axial pressure pneumatic feeding system(4 teams)
(3) Magnet tension control system
(4) Control method: use PLC auto/manual control
(5) 0-20kg Tension Control area 0-20kg
(6) Tension Magnet adopts 10kg controller(4sets)
(7) Wear Material is made in the form of a shaft (3 inch key bar type air expansion shaft random 4) and 2 gas expansion shaft dimensions: Phi 74 x 1100mm
(8) The transmission guide roller is made of aluminum guide bar, after dynamic balancing
(9) Base Material can left and right, Parallel adjustment
(10) Control Method: Pneumatic control
(11) Unwinding material, Automatic EPC control
(12) Automatic photocell EPC system
2.Main Machine Part
Jumbo roll A4 paper cutting machine Main Motor adopts inverter control 2.2kw
(1) the frame thickness of the frame is 16mm
(2) Adopt 10# high quality steel strip support (specification: 50 * 100).
1). Traction device
(1) Structure type: active traction passive compression type
(2) Traction base adopts High quality steel plate structure
(3) Traction roller adopts Rubber roll (specification: 2pcs φ100×1150mm)
(4) Pressure method adopts cylinder control
(5) Cylinder number: 8pcs
(6) Transmission guide roller adopts aluminum guide roll (specification: 16 Phi 80 x 1350mm).
(7) Transmission guide roller can front and rear tensioning adjustment
(8) Adjustment Method: wheel control manual adjustment
(9) Motor adopts inverter adjustment 2.2kw
(10) Inverter adopts Hangzhou Annengju
2) Feeding Part:
1. Adopts Servo control position method.
2. 5.5kw (Japanese Yaskawa Servo motor 1set)
3. The whole industrial control system adopts the LCD industrial control system drive mode: the main motor drives the active roll positioning.
4. Transmission adopts synchronous belt and synchronous wheel drive mechanism
5. Structure of high quality butadiene rubber roll used for feed roller
3)Cutting Device
(1) Cutting Method: Down knife fix, upper knife is cutting
(2) Cutting seat adopts heavy structure of castings
(3) Sliding adopts high precision linear guide (4 to pay) Taiwan production
(4) The upper and lower knives are used to balance silicon steel cutting tools with a bar cutter inlet
(5) Knife (thickness*width*length: 17*75*1150mm) original machine totally have 2 sets
(6) Operation Method: Manual Adjust cutting position.
(7) Main drive method: main motor transmission matching speed changer driving eccentric wheel linkage linkage reciprocating movement cutter.
(8) Transmission is driven by synchronous wheel and synchronous belt
(9) Eccentric wheel
(10) connecting rod
Finished product receiving table adopts automatic batch feeding.
Electrical control part: (conjoined control main cabinets and part conjoined parallel control) the whole machine adopts Taiwan's PLC touch screen, and the MITSUBISHI adopts special industrial control system.
(1) This Machine Control system have main control and tension control
(2) Main motor control: Main motor control, traction control, feeding control, cutting control, vertical circular knife trimming control, and automatic two-stage transportation control
(3) Tension Control: unwinding tension, The speed range of control is wide, and it has good performance at both low speed and high speed. And feed floating tension control.
(4) Electronic counting meter counting; alarm parking; automatic length setting, point entry and exit function.
(5) All Above electrical components use CHINT brand
(6) Electrical inverter guarantee 1 year
5 Jumbo roll A4 paper cutting machineSupporting facilities part: (Customer prepare for it)
(1) Power supply: three phase four wire air switch: voltage 3P.380V / 50Hz
(2) Gas source: maximum 5.5kg/cm2 x 5m3/min
Pictures are for reference :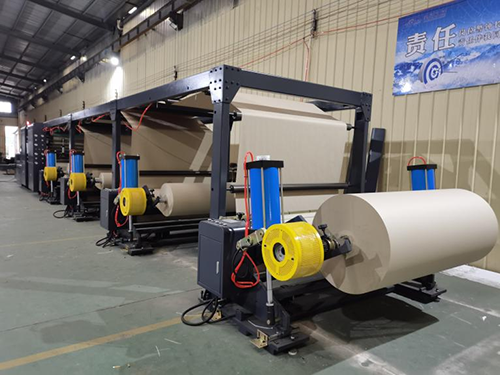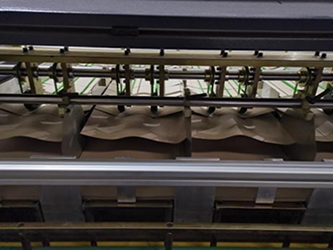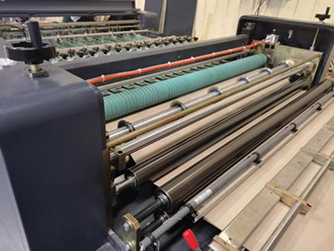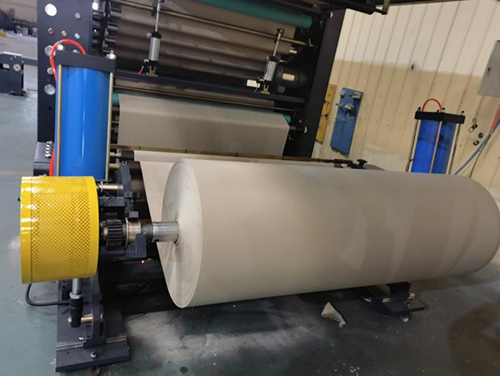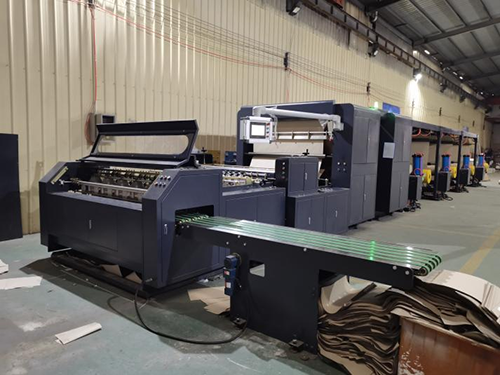 FAQ
Q. Are you a factory or trading company?
R. We are an actual factory and manufacturer with trading in the line of package machines for more than 10 years.
Q: How can I know your machine is designed for my product?
A: You can send us samples of your product and we test it on machine.
Q: Do you have a CE certificate?
A: For every model of machine, it has a CE certificate.
Pre-sale Service
1. Equipment model selection;
2.according to the special requirements of customers, personalized customized products;
3. Train technicians for customers free of charge;
4. Free professional technical engineers to plan the site on site and design the best process and plan.
5. Acceptance of the product;
6. Assist the client in drafting the construction plan;
Medium-sales Services
ECHO have the trained team to follow your orders methodically to guarantee the products can be finished on time with high quality.
After-sales Service
1.One Year Warranty,As long as there is a non-human fault in a year,free re-placement parts.
2.Parts Replacement,Don't worry about the parts damaged or not sold after the machine is sold.we have a field factory with hundreds of enployees to serve you.
3.Engineer Asssignment,Lifelong maintentance,If your equipment breaks down,we will arrange engineers to repair it.
4.Online Instruction,We open online services,as long as your equipment failure,our engineers will be the first time for a one-to-one trou-bleshooting.
5.Feedback Survey,The engineer is required to bring a questionnaire to fill in the satisfaction with the engineer and the use of the equipment.