ZHQJ-1100A3A4 paper cutting machine (4rolls feeding)
Performance and characteristics:
a4 paper machine sheet cutting is suitable for cutting all kinds of large drum packaging materials such as paper, paper plastic composite and color printing composite. This machine adopts servo motor to control the cutting length. The transmission system adopts the centralized control of pneumatic, photoelectric sensor and so on. This machine integrates light, electricity and gas. It is easy to operate, high cutting precision, stable machine and low noise. (pneumatic feeding can be selected) motor variable frequency speed regulation, automatic counting, alarm parking, magnetic powder or friction piece manual adjustment of tension function.
The above picture is for reference only
Main Parameter:
Model: ZHQJ-1100mm
Raw Material Max Diameter: φ1400mm
Max Paper Width: 1050mm
Cutting Length: A3A4
Longitudinal cutting width:A4 A3(Can be customized according to other customer requirements)
Cutting Speed: 50-200times/min
Fixed length precision: ±0.2mm
Power Supply: 22kw
Machine Weight : About 9000kg
Main Configuration:
1.Unwinding Part:
(1) The frame adopts the steel plate and channel steel
(2) Adopts Axial pressure pneumatic feeding system(4 teams)
(3) Magnet tension control system
(4) Control method: use PLC auto/manual control
(5) 0-20kg Tension Control area 0-20kg
(6) Tension Magnet adopts 10kg controller(4sets)
(7) Wear Material is made in the form of a shaft (3 inch key bar type air expansion shaft random 4) and 2 gas expansion shaft dimensions: Phi 74 x 1100mm
(8) The transmission guide roller is made of aluminum guide bar, after dynamic balancing
(9) Base Material can left and right, Parallel adjustment
(10) Control Method: Pneumatic control
(11) Unwinding material, Automatic EPC control
(12) Automatic photocell EPC system
2.Main Machine Part
Main Motor adopts inverter control 2.2kw
(1) the frame thickness of the frame is 16mm
(2) Adopt 10# high quality steel strip support (specification: 50 * 100).
1). Traction device
(1) Structure type: active traction passive compression type
(2) Traction base adopts High quality steel plate structure
(3) Traction roller adopts Rubber roll (specification: 2pcs φ100×1150mm)
(4) Pressure method adopts cylinder control
(5) Cylinder number: 8pcs
(6) Transmission guide roller adopts aluminum guide roll (specification: 16 Phi 80 x 1350mm).
(7) Transmission guide roller can front and rear tensioning adjustment
(8) Adjustment Method: wheel control manual adjustment
(9) Motor adopts inverter adjustment 2.2kw
(10) Inverter adopts Hangzhou Annengju
(11) Feeding buffer with floating arm mechanism
(12) Floating upper and lower tension adopts pneumatic traction method
(13) Float guide roller: Aluminum guide roller (specification: 12pcs φ80×1150mm)
(14) The whole feeding mechanism is intelligent controlled by displacement sensor.
2) a4 paper machine sheet cutting Feeding Part:
1. Adopts Servo control position method.
2. 5.5kw (Japanese Yaskawa Servo motor 1set)
3. The whole industrial control system adopts the LCD industrial control system drive mode: the main motor drives the active roll positioning.
4. Transmission adopts synchronous belt and synchronous wheel drive mechanism
5. Structure of high quality butadiene rubber roll used for feed roller
3)Cutting Device
(1) Cutting Method: Down knife fix, upper knife is cutting
(2) Cutting seat adopts heavy structure of castings
(3) Sliding adopts high precision linear guide (4 to pay) Taiwan production
(4) The upper and lower knives are used to balance silicon steel cutting tools with a bar cutter inlet
(5) Knife (thickness*width*length: 17*75*1150mm) original machine totally have 2 sets
(6) Operation Method: Manual Adjust cutting position.
(7) Main drive method: main motor transmission matching speed changer driving eccentric wheel linkage linkage reciprocating movement cutter.
(8) Transmission is driven by synchronous wheel and synchronous belt
(9) Eccentric wheel
(10) connecting rod
4)a4 paper machine sheet cutting Lengthwise round knife trimming device
(1)Cutting method: the upper and lower knife can adjust the active circular cutting
(2) Cutting seat adopts High quality steel plate structure
(3)The upper and lower knife use disc shaped circular knife silicon steel tool (6sets) a set of round blade, size is: 70 x 105 x 1.2 round knife size: 55 x 80 x 20.
(4)Operation method: Manual Adjustment cutting position
(5)Transmission Method: synchronizing with the traction device
(6)Each of the upper and lower circle knives (1 sets)
(7)Adjustment 1set
(8)Waste disposal method: waste side draining and exhausting waste (5-20mm)
Pictures are for reference :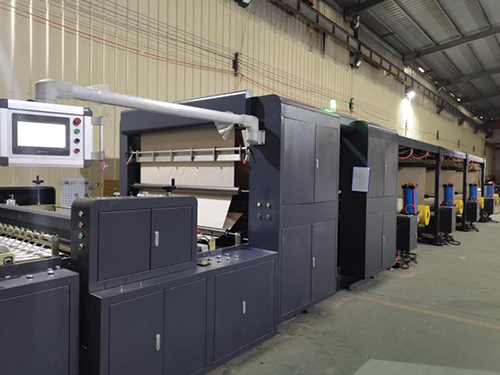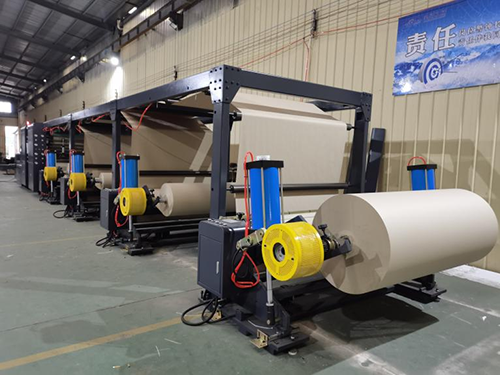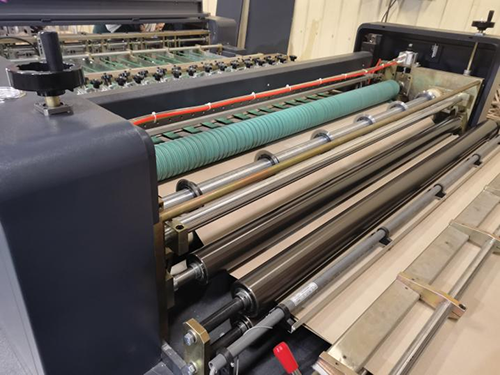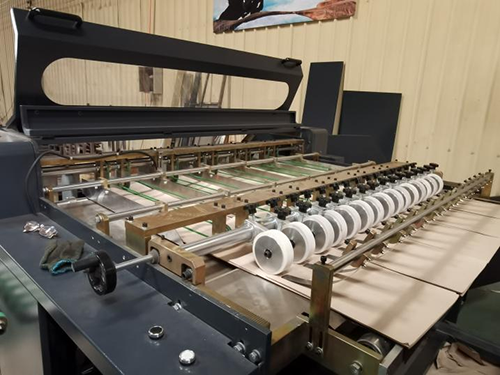 FAQ
1. Where is your main market?
Our productts are sold well in 30 provinces and have good reputation in China, we pay attention to developing the overseas market, such as Europe, Russia, Southeast Asia, Middle and South America, Africa, and other countries all over the world.
2. How dose your factory do regarding quality control?
Quality is our soul of company. Our people always attach great importance to quality controlling from the very beginning to the very end. Our factory has passed CE certification.
3. What about warranty and do the engineers available to over seas?
One year warranty. During this period, if some parts were problem, we will send by courier to you.